What to Expect
Welcome to Elevated Health Center! You'll find that our friendly chiropractic office is the ideal place to begin your journey to better health and wellness!
At our always professional but casual, and often lively, office, we have fun but always ensure that getting our clients better is our primary concern. Our personalized approach to care helps us to stand apart from other practitioners. Get a jump start on your first visit by filling out your paperwork in the comfort of your own home!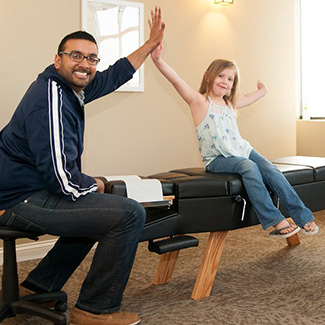 ONLINE FORMS »

The First Visit
This appointment involves the following:
A consultation with your chiropractor
Examination
Assessments, including Substation scans
Please allow 30 minutes for this appointment.
The Second Visit – Report of Findings
When you return, typically the next day, you will check in on the iPad. Next, your chiropractor will go over the report of findings with you. He will review the results of the scans and exams with you. We will let you know what your condition is, if it can be helped with chiropractic care and how much care will cost. A treatment plan will be presented. If you are ready to proceed with care, your chiropractor will perform a chiropractic adjustment.
Do I Have to Go Forever?
You never have to do anything you don't want to but consider your oral hygiene. You don't just brush your teeth once or go to the dentist a single time. After all, you want to have a clean, healthy mouth and strong teeth. With chiropractic, when you get to the point where you're getting better and feeling great, you will likely want to continue.
CONTACT US »
If you're ready to enjoy better health and greater function, we invite you to schedule an appointment today!

New Clients | (763) 600-6134