Chiropractic Care in Blaine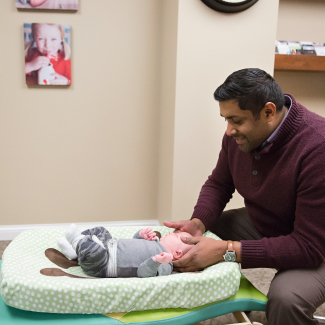 While many people associate the goal of chiropractic care to alleviate back and neck pain, our approach at Elevated Health Center is to remove that interference that's not allowing the brain to connect to the rest of the body. That is accomplished through a chiropractic adjustment. We also use Substation scans to assess the current situation of the nervous system. With chiropractic, we're removing the interference to let the brain get to the muscle or organ that's not functioning properly — to let it do what it needs to do without any interruption.
Our Approach to Care
Corrective : We always do corrective care first. After scans are taken, and exams are performed, we will come up with a plan that gives our recommendations for care. Care will mainly include a lot of adjusting and some muscle work based on what we find.
Rehab : Once the brain connects more efficiently with the muscles, we move to a rehab type of care. Your chiropractor will provide you with some exercises and tools to maintain your progress.
Maintenance or Wellness : After you've graduated from our corrective care and rehab phases, we invite you to advance to our Elevated Plus programs, which are wellness plans. We offer clients a significant discount on these plans.
Our Techniques
The main techniques used at the practice are Diversified and Thompson Drop Table. Webster Technique is also used to help pregnant women with breech babies.
During your chiropractic adjustment, you may hear a popping or cracking sound. It's akin to what you'd hear when you open a wine bottle or can of pop. The sound is simply the release of gas that's locked up in the joints. Your chiropractor will let you know what to expect before he begins.
CONTACT US »
Find out for yourself how fantastic you can feel with natural, noninvasive chiropractic care. Book an appointment today!

Chiropractic Care Blaine | (763) 600-6134